Custom Switched Filter Banks
Spectrum Control's switched filter bank IMAs draw on the expertise of our multi-disciplined staff with many years of experience in both microwave filters and control components. By combining filter and switch design expertise, Spectrum Control can provide integrated switched filter assemblies that not only reduce the overall mechanical footprint, but also offer improved electrical performance.
The result is an integrated assembly with:
Improved VSWR
Less passband variation
Lower insertion loss
Reduced component count
Improved RF Shielding/Isolation
Higher reliability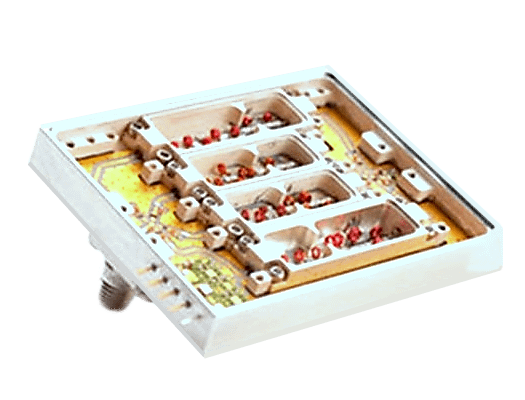 The Spectrum Control IMA Difference
Vertically integrated design and manufacturing
Applying our extensive experience and in-house component technology we maintain tight control over critical performance parameters for exceptional performance.
Design Choices - Standard, Semi-Custom, Custom
Standard Designs: By choosing a product from our database of existing designs, the time and cost to engineer a new product can be eliminated.

Semi-Standard Designs: We commonly modify existing designs to minimize the development cost and cycle time. The frequency band breaks, number of channels or drive circuity of many switched filter banks can be readily optimized to suit other applications.

Custom Designs: Spectrum Control excels in developing custom solutions to satisfy challenging requirements.
Simulation and Modeling
All designs are based on simulations using tools such as HFSS, Sonet, Microwave Office and Genesys and state-of-the-art 3D SolidWorks modeling.
These sophisticated models are used to ensure the best electrical performance, while maintaining a compact, low weight product in the shortest possible lead-time.
Technologies to Meet Your Requirements
Filter Technologies: Combline, Interdigital, Lumped, Microstrip, Suspended Substrate Stripline, Dielectric Resonator
Switch Technologies: Pin Diode, GaAsFET, High Power, High Speed
Frequency Bands: Broadband (DC-40) and Standard EW Bands with sub-octave and multi-octave designs available
Designed for Deployment
Spectrum Control has extensive experience developing components and IMAs for commercial and aerospace & defense applications. Our wide range of in-house environmental screening capabilities allows us to reduce prototype and production cycle times.
Our in-house capabilities include
Laser Sealing, Vibration, Altitude
Fine & Gross Leak, Mechanical Shock, Salt Atmosphere
High-power, Thermal Shock, Humidity