Quad Transmit Receive Module (QTRM) X-Band
Common Building Blocks for E-Scan & AESA Radar System Solutions
Spectrum Control's Quad Transmit Receive modular solutions for AESA/E-Scan radar are designed to simplify the development of active antenna array systems and sub-systems. These modules provide a unique and innovative COTS solution with shorter time-to-market, simple integration and reduced cost of ownership.
These Spectrum Control-designed and manufactured QTRMs are ready to use out of the box. All that is necessary is the upload of system calibration data, which then propagates through the system, speeding set-up time.
Each Quad Transmit Receive Module (QTRM) includes full RF, DC, control functionality (logic interface), calibration and BITE status for each TRM, thermal and current overload protection, as well as receive and transmit functions.
Each field-replaceable QTRM common module is factory calibrated. The only set-up needed is a one-time laptop upload of antenna offsets.
RS485 Half-Duplex, 5.0 Mbps serial data bus for control and monitoring.
DSP externally programmable via JTAG
TX output power, HPA temperature, operating current and power supply health monitored and reported on request
Positive supplies inhibited (with the exception of the digital control circuits) if negative supply is lost
Direction cosines used for beam steering
4-bit array address code giving up to 16 QTRM sub-array (64- element array)
TRM's respond to individual address or broadcast messages.
Module position assignment
Ability to schedule up to 16 phase & amplitude settings for rapid execution.
Array CAL allows end-user to add additional TRU phase & amplitude calibration.
Read-back of set phase & amplitude values for each TRU.
Selection of internal/external clock source.
Spectrum Control's Quad Transmit Receive Module is comprised of four T/R channels and associated DC and control electronics, with built-in factory calibration, thus providing a line replaceable unit for the array.
The quad configuration provides the optimum building block to meet most aperture requirements whilst providing efficient use of local DC and control functionality. and the technologies used allow for a highly integrated electronic assembly to be realized, providing a cost-effective medium-to-high-volume solution.
The factory calibration of each QTRM allows modules to be interchanged regardless of their position within the array. Additional calibration can be set and stored within the QTRM by the integrator to allow for external system offsets.
Active Antenna Array Unit (AAAU) Solutions
Our Active Antenna Array Unit (AAAU) system is comprised of multiple QTRM (Quad Transmit Receive Module) assemblies, packaged in removable planks that form the AAAU sub-array. The QTRMs are Line Replaceable Units (LRU), which allow for ease of assembly and maintenance. This streamlines system integration, simplifies repair, and reduces the cost of ownership of AESA / e-scan array / e-scan radar platforms.
For this 'common module' building approach, we have chosen a QTRM (Quad Transmit Receive Module) as the 'common module.' Available as either a standalone solution or as part of Spectrum Control's Active Antenna Array Unit (AAAU) product, the QTRM can be integrated into phased array antenna applications, serving as a stackable building block as part of an antenna sub-array. This stacked approach facilitates ease of configuration and field repair of radar units.
Available in various bands and product configurations, our Quad Transmit Receive Module forms the main element of an AESA radar system.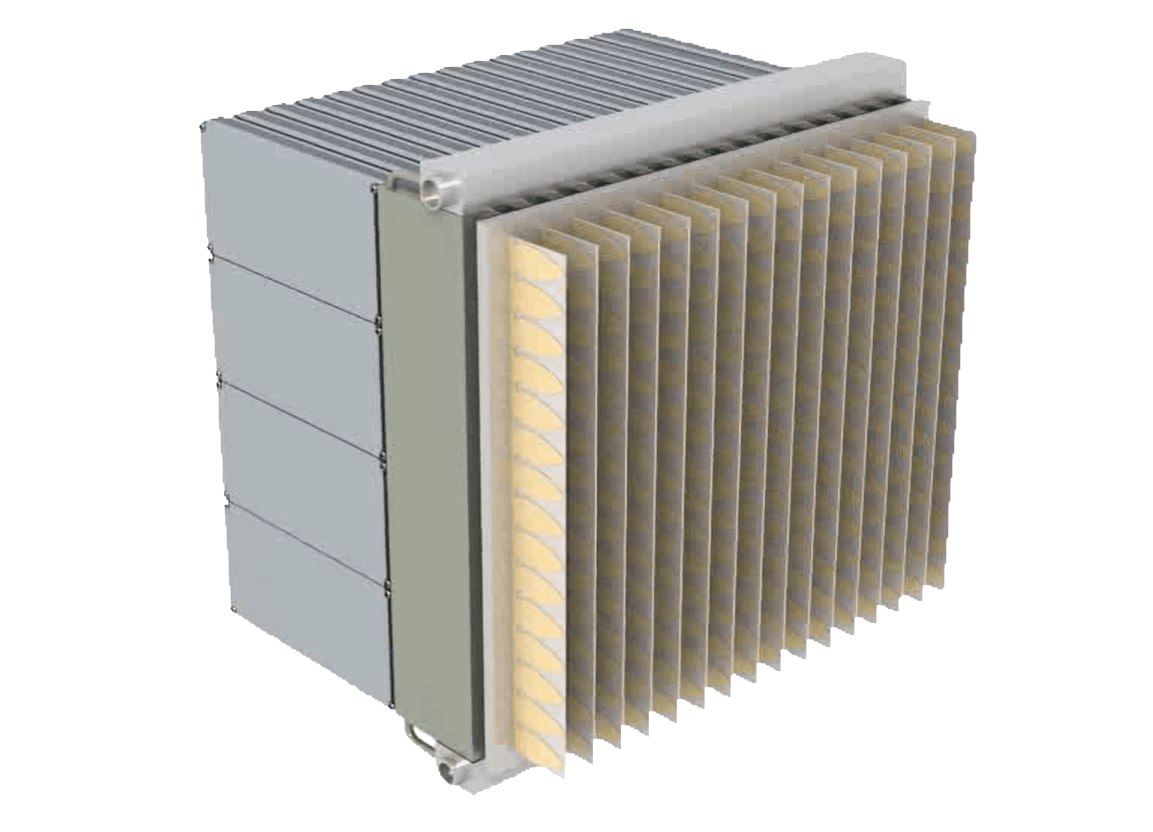 AESA is a flexible technology platform that is capable of simultaneous, multi-target tracking. Military organizations have embraced AESA radar for use on defense aviation, ground and maritime platforms, missile defense programs, as well as in support of critical SATCOM systems.
Why a modular approach to AESA Radar could be right for you
Utilize the Platform for Advanced Development
This product provides the means to experiment with X-band phased array radar and to further develop a 2-D radar by stacking Planks up to eight deep.
Leverage Our Extensive Resources
Our development team welcomes the opportunity to work with you during your product development by providing technical support and customization of active antenna array solutions.
Reduce System Engineering Time
Starting with a pre-designed module will accelerate your development time and allow you to focus resources on signal processing and beam control.